If you've come across this blogpost to find out what's going on for Christmas in Plymouth 2020, I'm not going to lie – it's not looking as amazing as usual.
And the irony of me finishing it whilst watching Boris announce a second lockdown in England is not lost on me. But I'm going with their line of 'saving Christmas' and hoping that there will still be events on once we're out the other side in December.
Compared to the HUGE what's on guide I put together last year with events coming out of our ears, it's going to be kind of, er quiet, shall we say.
Covid and the restrictions we're all under has put paid to a lot of events for Christmas in Plymouth 2020. So we'll just have to be imaginative and make our own festive fun!
But if you're looking for places to go in and around Plymouth this Christmas, there are still a handful of things which have been planned. I've widened the area too this year, just to try and give us all as much choice as possible. Just make sure you book ahead if there's anything you fancy.
Although as we've already seen, events could be cancelled last minute so it's best to check with organisers before going.
SEEING SANTA
At the time of me writing this, it seems Santa is playing it safe and social distancing in the North Pole. Most grottos have been cancelled, but there are still a few places you might be able to see him.
Chaplins Superstore
The Plympton store is renowned for its Christmas Grotto – with festive scenes to walk through before meeting the big man, my boys love this one. And all I can say is thank FLIP, it's still happening. Obviously it's all being run under Covid safety guidelines, but children will still be able to see Santa himself in the Chaplins Winter Wonderland and Magical Gingerbread Cabin. Find out more information on their Facebook page.
Endsleigh Garden Centre
Another popular choice for Plymouth folk, is the grotto at Endsleigh Garden Centre. But this year it's going to look a bit different. There won't be an actual grotto like other years but you can have a Zoom call with Father Christmas instead! Join Santa in a special zoom cabin or from the comfort of your own home and talk to him from his workshop in Lapland. All zoom calls last between 5 and 10 minutes, and if you do it at Endsleigh it will include a gift.
Endsleigh Garden Centre is also holding a Breakfast with Santa event again, albeit with limited capacity and an amended programme this year. Santa will read stories and talk to the children via a speaker system whilst the children eat on their own family tables.
To find out about the zoom call or breakfast, click here.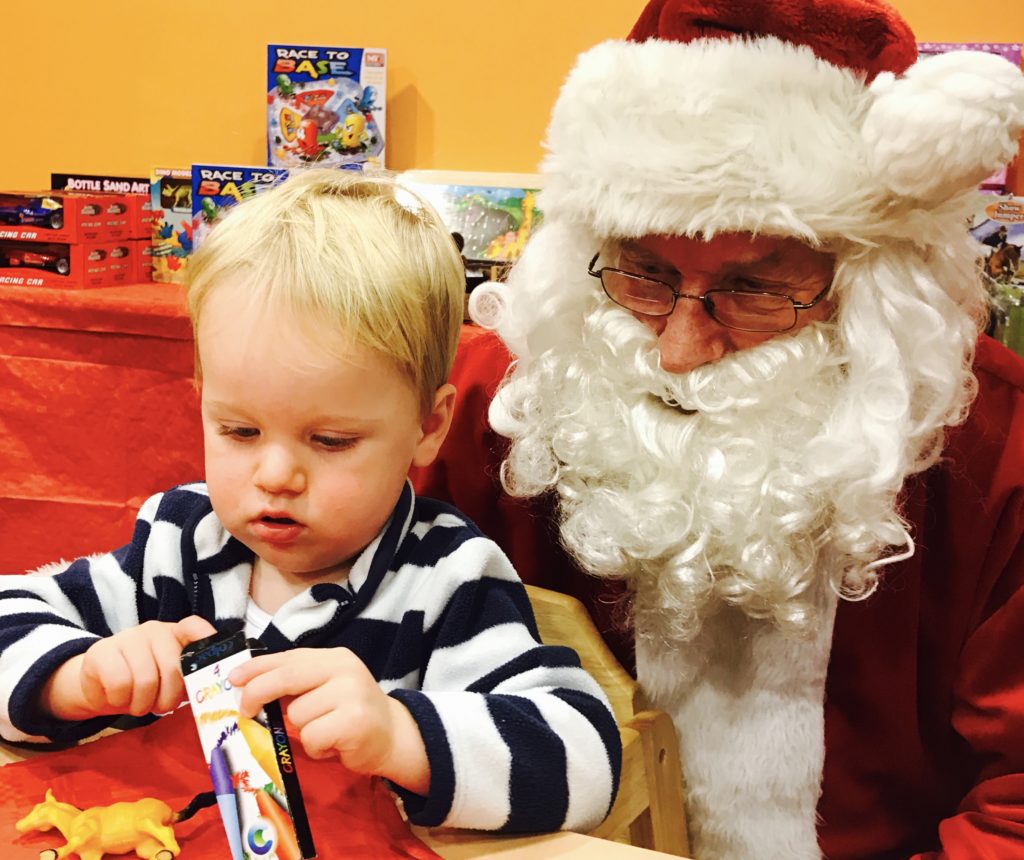 Tamar View Nurseries
Tamar View Nurseries in Carkeel is always a given on our calendar for Christmas in Plymouth, but it seems Santa is focusing his efforts on making sure all the toys are made ready for the big delivery rather than visiting the garden centre this year. The area where the grotto is normally situated is being used to maximise the shopping area to promote social distancing instead. I'm sure he'll be back next year!
China Fleet Country Club Santa's Grotto and Carvery
More dates have been added to China Fleet's Santas' Grotto and Carvery, but be quick as they are selling out fast. The event includes a traditional two course Christmas carvery set in a beautifully decorated private room. Santa and his elves are then ready to greet your little ones with an extra special gift. There is also colouring, mulled wine and plenty of Christmas cheer. To book check out more details here.
Woodlands Theme Park
Santa's Grotto at Woodlands is always a big hit. We went last year and it was awesome! But this year plans are still under review as to whether it will be going ahead due to the guidelines. The theme park told me they are deciding whether it's possible to put on a Christmas event without losing the magic, and to keep an eye on their social media for any announcements.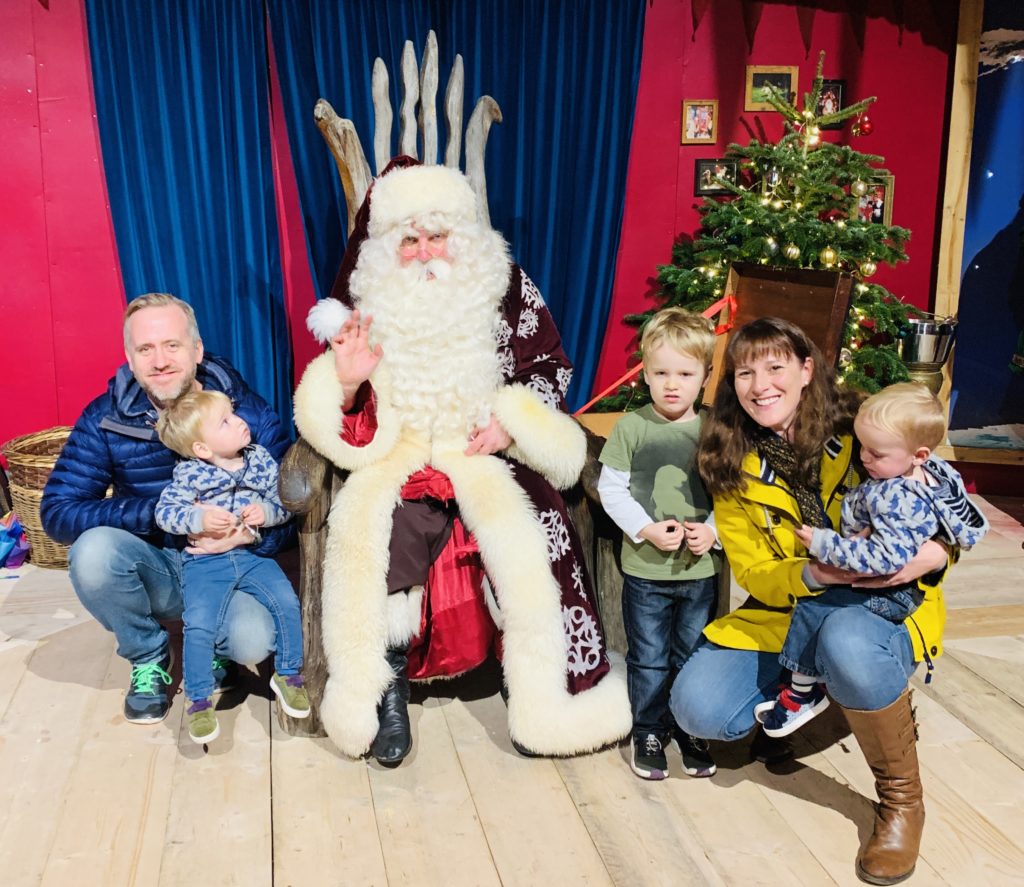 Bedruthan Steps Hotel
A bit further out but apparently Santa Claus is popping in for special visits to children at the Bedruthan Steps Hotel in Cornwall. The hotel's Sugar and Spice Grotto won't be going ahead but they are offering a Night Before Christmas deal in which families can stay at the hotel for one night, and have a special family meeting with Father Christmas which includes a gift for children. You can then enjoy the hotel for a night. Find out more about it here.
Powderham Castle
If you fancy a trip to Powderham near Exeter, I don't think you'll be disappointed by the looks of things. They have a spectacular light trail and show which allows you to explore the castle grounds and buildings in a way you've never seen before. Each weekend in December children will be able to meet Father Christmas and his Elves, and for those on the Nice List there will be a gift. The Christmas Barn is set to be so full of presents you'll need to find your way through the maze to the Christmas tree and the North Pole post box. There will also be carols, crafts and much more. Find out more about it here.
Otter Garden Centre
Okay, so there's not strictly a grotto here, but if you're like me and need ideas of somewhere to take the pre-schoolers on a miserable December morning, it's well worth a visit (when it reopens!). The Christmas section has loads for the children to see, and previous years I've spent pretty much a whole morning watching my boys mesmerised by singing reindeer/snowmen or dancing Christmas trees. And there's a cafe for that all-important coffee, so what's not to like? Way better than a morning of soft play hell. Otter have said they've cancelled the grotto at Ottery St Mary and Lymington. Have a read of this to find out more.
Pennywell Farm
If you've not taken your children to Pennywell Farm at Christmas you really should. And the best news is, it's going ahead this year. Pennywell have said we can "be sure to experience the same Pennywell Christmas Magic this year despite a few changes to ensure we can keep everyone safe." The kids are going to LOVE the nativities. You can find out more information on their website.
House of Marbles
Father Christmas will sadly not be popping in to spread his festive cheer at the House of Marbles at Bovey Tracey this year. But he has given them a special post box where children are welcome to post their letters to be passed onto him. Every child posting a letter will receive a goody bag, and it's free to take part. Find out more here.
Lappa Valley
Okay, so it's a bit further away from Plymouth, but seriously these are desperate times! If you want to see Santa, then head to Lappa Valley in Cornwall. (Read my review of our trip there this summer here to see how much fun it is). Take a nostalgic steam train ride through a wooded valley into Lappa and meet Santa in his grotto where there is a present for every child. The festive fun is taking place on December 5 and 6, 12 and 13, 19 – 24. Read more about it and book tickets here.
CHRISTMAS TRAINS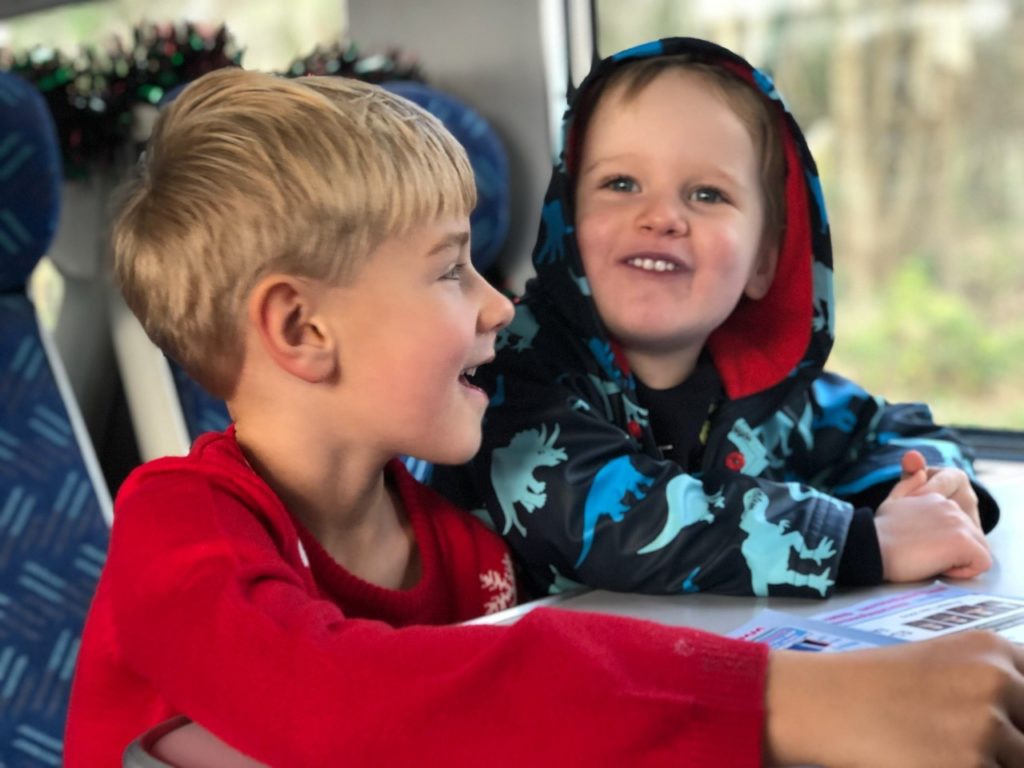 Plym Valley Railway
Catch the North Pole Express from Coypool to the er, North Pole throughout December. Meet Father Christmas and his elves on the steam train journey to the Arctic, then see him in the snow when you get there. It's on every weekend in December. Check out their Covid safety guidelines and how it's been operated as well as book your tickets here.
South Devon Railway
The Polar Express at South Devon Railway has been cancelled this year. But they're hoping to be back with a bang next year! Gutted, I am. Gutted!
Polar Express Tram Ride at Seaton
Update: This event has now been cancelled.
With the South Devon Railway Polar Express ride being cancelled, the Seaton version on the Tramway is almost fully booked. So hurry up if you're interested! It will see passengers join the single deck tram for a journey to the 'North Pole' including hot chocolate, cookies and a chance to meet Santa and his elves.
CHRISTMAS LIGHTS SWITCH ON
Plymouth City Centre
Always one for the calendar, Plymouth City Centre's Christmas Lights switch on was due to take place on Thursday November 19, 2020. There was no big event so that people were kept safe, but the lights are looking fabulous. It's a sure fire way to cheer us all up so make sure you go and check them out.
Plympton Lights Switch On
This year's light up Plympton event will be happening on Monday November 30 and will all be all online.
Join in with some festive fun from the comfort of your living room. The Plym Chamber along with local businesses, schools and musicians have all busy putting together this online event which will see the Ridgeway lights turned on, local schools performing as well as local musicians. Find out more here.
CHRISTMAS EVENTS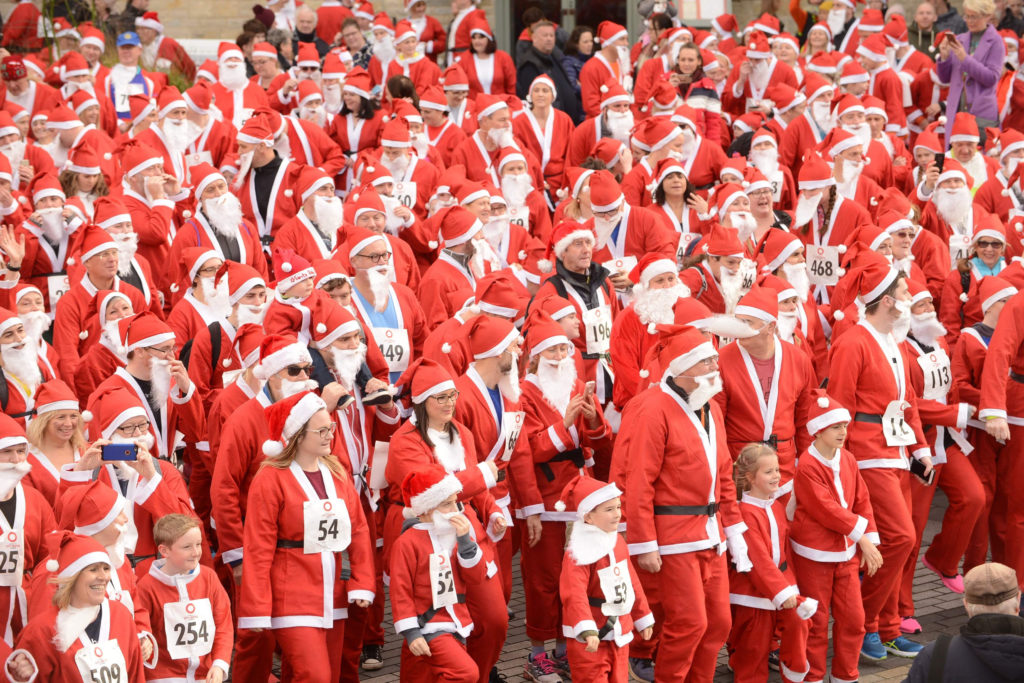 Santas on the Run Goes Freestyle
There won't be a Santa Fun Run this year for obvious reasons, but if you're a runner and still fancy getting active and festive, then you can join in the Santas on the Run charity event. Runs are being held all over the country on the weekend of December 11 to 13. And organisers Children's Hospice South West are encouraging people to don Christmas fancy dress and either skip, run, walk, ride, hop, skate or sledge any route or distance they like in their local area to raise at least £15 sponsorship. Find out more about it here.
Winter Village
Just announced is a special Covid-secure family 'Winter Village' in Plymouth. It will be a Christmas market and festive funfair all in one at Treeby Court from Thursday December 17 to Sunday December 20 from 12 noon to 9pm. Organised by Lee Mill-based funfair owners Rowland and Sons, it will see dozens of local traders selling Christmas gifts and hot and cold food, as well as fairground rides. There will also be a Santa's grotto and a snowglobe. Children will also be able to meet Frozen's Elsa and Anna on the Saturday. The event will be ticketed at £2 per person, (under 3s free) to monitor capacity for social distancing regulations. Find out more and buy tickets here.
Saltash Window Wanderland
Up to 5,000 people are usually expected at the hugely popular Saltash Christmas Festival, but this year it's taking a new twist. Saltash Window Wanderland will take place from December 5 to 7, and feature shops and residential houses turning the town into a magical outdoor art gallery with festive displays in their windows. Organisers are hoping both residents and businesses will register and decorate their windows, to turn entire streets into art galleries. What a great idea! Read more about it here.
Illuminate Festival
The annual Illuminate Festival at the Royal William Yard was due to take place this November but has been postponed until February 18-21. You can expect light projections, installations, performances and interactive activities that will enchant the whole family for free. Find out more here.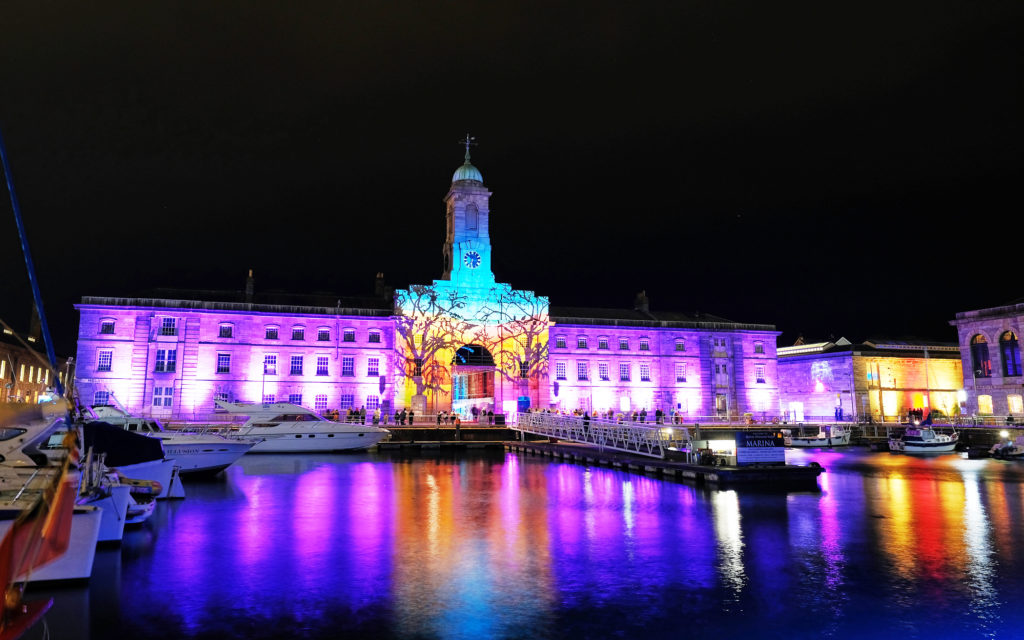 Tavistock Christmas Market
Miss Ivy Events is holding the Tavistock Christmas Market on December 13 at the Pannier Market and Butchers Hall in Tavistock. The free event will showcase local sellers and offer refreshments and entertainment. Find out more about it here.
Plymouth Good Food Christmas Food and Craft Fair
Home Park Stadium is playing host to an open air Christmas Food and Craft Fair on Sunday December 6 from 10am to 3pm. Entry is free and there will be 40 stalls with produce ranging from hot and cold food, craft beer and handmade craft goods. Find out more here.
Plymstock Christmas Market
Market stall holders selling crafts, food, drink and art will be at The Broadway Christmas Market on Saturday December 5. The event will run from 12noon until 6pm. Find out more here.
Polar Bear Explorer Trail
Remember the PoIar Bear trail last year that saw 20 polar bear cubs hiding along Plymouth's waterfront? Well some of them are back!
This year each bear has their own family friendly twist with 9 of them being painted by children at local primary schools, and 4 painted by local artists.
The bears can be found in businesses around the Barbican, Mount Batten, The Hoe, Royal William Yard, and one at The Box too. You can follow the trail on a free Plymouth Trails app from December 5 to 23. Every child that completes the trail receives a special badge and a sweet treat at the final location. Once finished the four bears designed by local artists will be auctioned off to raise money for St Luke's Hospice. To find out more, have a read here.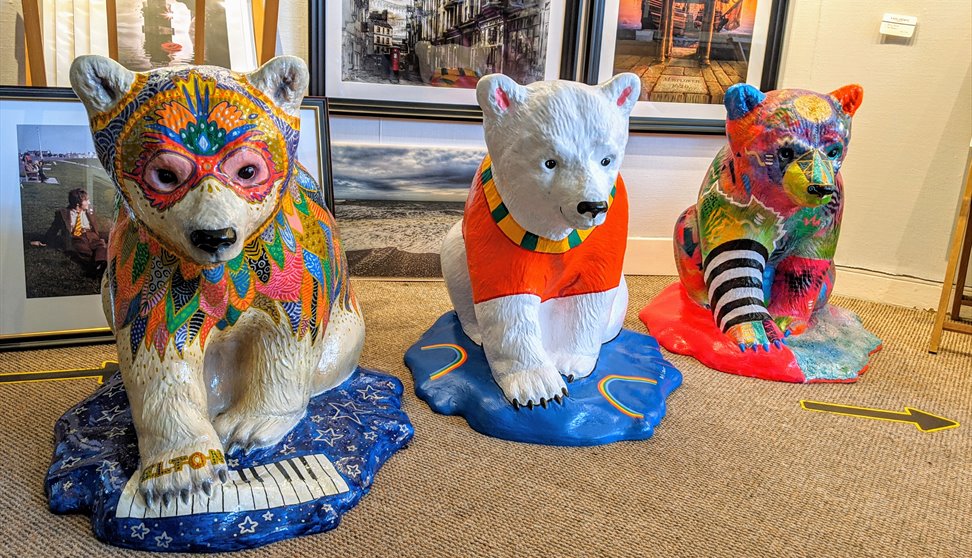 Santa's Christmas Party Cruise
If you fancy something a bit different, why not book onto the Santa's Christmas Party Cruise taking place on December 12, 2020. Run by Plymouth Boat Trips it's set to be a fun and festive cruise for the whole family with muled wine and a mince pie for the adults, and a soft drink and small gift for the children. With festive music, games and free face painting – it's supposed to be the best Christmas party in town! Read more about it here.
CHRISTMAS AT THE NATIONAL TRUST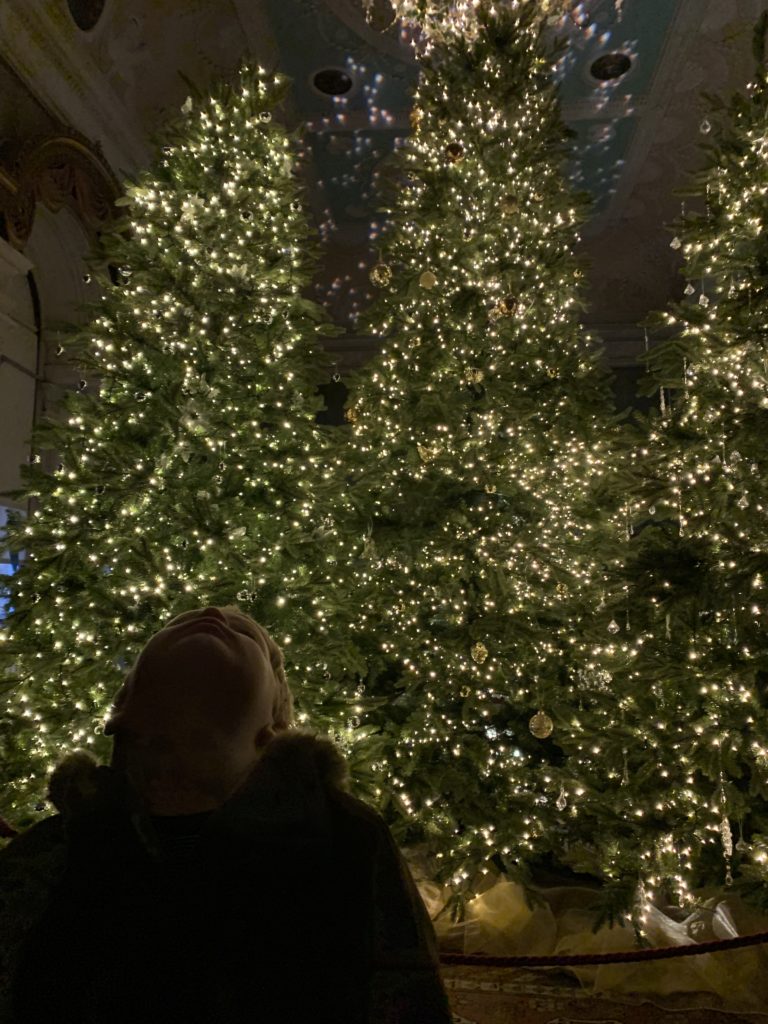 Saltram House
My favourite place as you all know! But sadly along with the rest of Christmas in Plymouth 2020, Christmas at Saltram isn't looking the same this year either. The hugely popular Enchanted Saltram isn't going ahead, nor is Storytime with Father Christmas. The Saltram Christmas Craft and Food Fair also isn't on this year.

BUT, it's still well worth a visit. If your children fancy writing a letter to Santa, they can pick up a template at the cafe, shop or welcome centre and post it in the special North Pole dispatch box. Saltram staff will ensure the big man gets them all – although can't guarantee a reply.
And instead of Enchanted Saltram, there will be a Peter Rabbit Winter Adventure Activity Trail. It was originally due to be throughout December but has now been pushed back until the new year. It will run from January 9 to February 21.
Apparently Peter Rabbit's friends need some help finding items to see them through the colder winter months in the garden. Little ones can lend a hand to some of Beatrix Potter's well-loved characters such as Squirrel Nutkin, Mr Jeremy Fisher and Jemima Puddleduck and solve the clues to earn their special trail badge and certificate. There will be nature-themed active challenges to try out as well as a Peter Rabbit selfie station. You'll still need to book a normal timed slot for the gardens to do the trail. Find out more details about it here.
The Peter Rabbit trail is also taking place at Cotehele and Buckland Abbey – but through December.
THEATRE AND CONCERTS
Theatre Royal Plymouth
SOME GOOD NEWS AT LAST! Just when we thought we'd never go to our beloved Theatre Royal Plymouth again, they've announced that yes there WILL be Christmas performances this year.
A socially distanced Robinson Crusoe will be a pantomime like never before from Saturday December 12 to Sunday January 3. Audiences should get ready for a swashbuckling adventure full of buried treasure, dangerous buccaneers and a magical journey across the ocean in an all-new production created especially for Christmas in Plymouth 2020. It will be performed in one act to minimise the need for audiences to move around the building but the theatre promises it will still be packed full of comedy routines, audience-safe participation and unmissable magic. Book tickets here.
And for little ones, The Gingerbread Man is back at TRP's Drum Theatre from Tuesday December 8 to Sunday January 9. Performed by Stuff & Nonsense it is a mix of puppetry, live-action, great music, humour and a stunning staging of the well-loved classic tale. It's suitable for children aged three and over. You can book tickets here.
Soapbox Children's Theatre
UPDATE: MORE DATES HAVE BEEN ADDED DUE TO POPULARITY – SO HURRY!
Stiltskin Theatre company is performing Quest for the Ice Dragon on December 16 and 17, December 23 and 24, and January 7, 8 and 9.
The show is an 'immersive promenade performance' in and around The Soapbox Children's Theatre at Devonport Park. Children are invited to join the actors on an enchanted adventure in search of the Ice Dragon. There are performances for under 5s and adapted ones for older children, but tickets are selling out FAST! Find out more details and book tickets here.
Above Bounds Theatre Collective
Above Bounds, a collective of artists based in Plymouth, is holding The Snow Queen Family Workshops on various weekends in December and January at Ocean Studios, Royal William Yard.
Over the course of 5 creative workshops, together participants will rewrite, retell and redesign one of Hans Christian Anderson's most loved tales, The Snow Queen. Organisers say it is perfect for ages 5+ and their families, and the workshops can be enjoyed as individual sessions or you can go to all of them. Booking is essential here.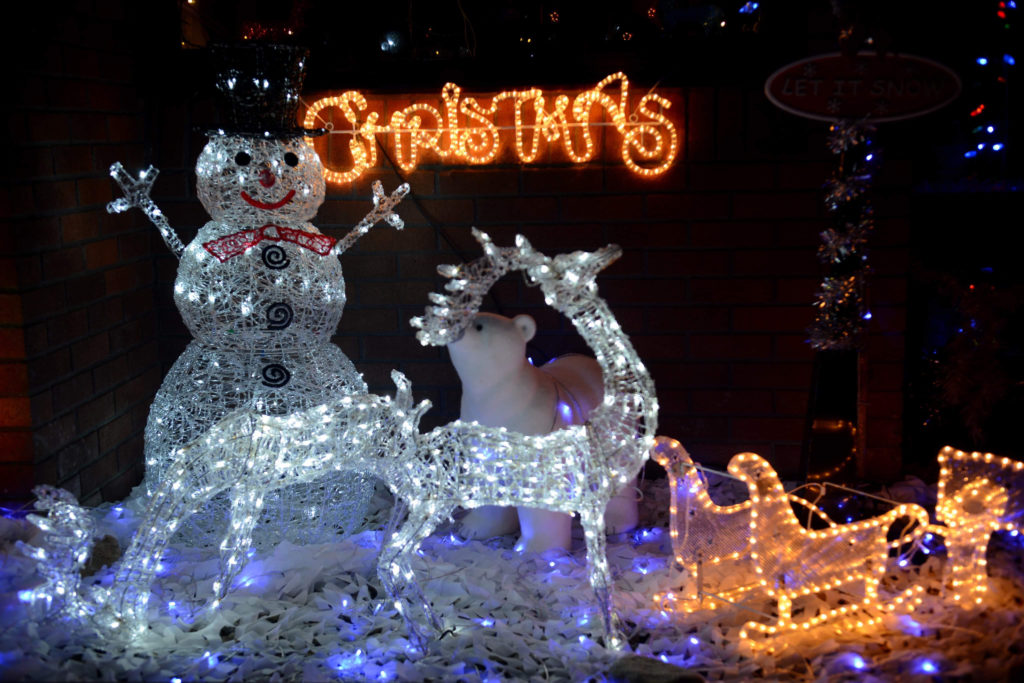 Royal Marines Christmas Spectacular
This popular event, featuring some of the finest seasonal music from The Band of Her Majesty's Royal Marines Plymouth was due to take place on Saturday December 5, but has been rescheduled to Saturday December 11, 2021. Find out more details here.
CHRISTMAS TREE FARMS
One thing I want to do this year is go to a Christmas Tree Farm to pick our real tree. With less going on in 2020 I thought we could make this one of our 'Christmassy' things. There are several in Devon and Cornwall to choose from, or further afield. Check out this post 200+ Christmas Tree Farms in the UK to choose where you want to go.
So it's nowhere near the same as last year's guide, but there are few things for you to choose from. Hope you find something you fancy and have a great time. Let's just hope it all goes ahead!
If you have an event that you'd like me to include, email me the details at helen@twinstantrumsandcoldcoffee.com.
How did I do?
Did you enjoy this? Keep an eye out for the latest Local Stuff here. You might like some more 'usual' type of posts – think sweary, sarcastic mum rants about having two year old twins and their four year old brother. Check out my Mum Life section for those, or if you want to read about UK holidays with three young kids have a read of my Travel and Days Out section.
If you like a bit of social media madness, pop over to my Facebook page where you'll be able to have a laugh at what ridiculousness goes on in my house with three very small boys on a daily basis. Warning – there is often sarcasm, and usually swearing. There are also great travel reviews and some AWESOME giveaways. Feel free to join my Twins, Tantrums and Cold Coffee – Shits and Giggles Parenting Group too, where everyone shares their hilarious stories.
If you like what you see, how about you check me out on Pinterest, Instagram and Twitter too.
And if you want to work with me, feel free to give me a shout here or at helen@twinstantrumsandcoldcoffee.com and I'll get back to you.